Restoration
We have not yet found a VW we couldn't restore but serious restoration work involves a lot of time and is therefore costly. If this is the type of work you need then arrange a visit and have a look at what we do. Major bodywork can either be carried out in one go or, as many customers prefer, it can be done as a "rolling restoration" to spread the cost out and keep the vehicle on the road between planned periods of work.
We have our own in house spray booth, fully extracted and dedicated to VW`s.
Panel replacement and smaller repairs Bus or beetle your pride and joy is in safe hands here. Having had over 15 years of panel replacement and fabrication we have yet to find a job that is too much to handle! Rear corners, battery trays, trim holes welded, floor repairs etc or just enough to get through your next MOT.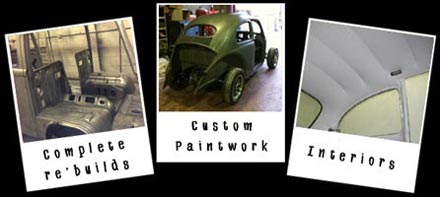 Type 2 in our spray booth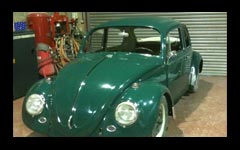 1965 Java Green Beetle,
ready to rock and roll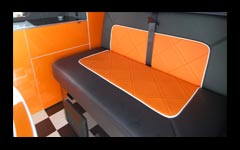 Custom interior finishes available